Victoria Arms Binfield Wins 2022 Branch Pub of the Year Award
Friday 15 April 2022
We are delighted to announce our new Berkshire South-East Branch Pub Of The Year for 2022 which is the Victoria Arms, Binfield.
Branch Good Beer Guide Coordinator Mike Tickner presented the pub's manager Natalia Foley with a certificate at the pub on April 7th.
Mike said "I'm very excited and proud to make the 2022 Branch Pub Of the Year award to the Victoria Arms, Binfield.
"The award not only celebrates quality real ale, but also encompasses a pub's overall ambience and facilities, staff knowledge and friendless, and their service offering.
"The Victoria Arms richly deserved their award, receiving over 66% of the total votes cast. Huge congratulations."
Natalia was very excited to receive the award, and thanked her loyal customers who have supported her over past couple of difficult years. She also extended her thanks to her hard working bar / kitchen team and to CAMRA Berkshire South-East for making the award. She promised to even more actively promote CAMRA and their activities within the pub.
The award was proudly mounted onto the wall next to the bar the very same evening.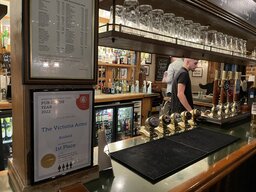 Ben Sedgwick, Operations Manager of Fuller, Smith and Turner who own the pub said he was "delighted at the result."
The Victoria Arms will now go forward to the County round of judging, against the winners from the other 3 Berkshire branches.
Our warmest congratulations go to the whole team at the Victoria Arms.