Branch Resumes Presentations to Long Serving Publicans
Saturday 31 July 2021
Before the pandemic, our branch started making presentations to recognise those publicans in our area that have been running their pub for 10 years or more.
Back then presentations were made to Anne & Nick at the Duke of Edinburgh in Woodside, Graham & Dawn at the Rifle Volunteer, Emmbrook and Phil & Jean at the White Hart, Winkfield. Photos of these presentations can be found on the Branch Recognises Long-Serving Publicans news article.
On 31st July 2021, after an enforced pause, we were able to resume the process by making a presentation to Hattie at the Hope & Anchor, Wokingham where she has been landlady since October 2009.
Branch Chair Kevin Lenton made the presentation during a Wokingham pub crawl social to support local pubs that have endured so much during the pandemic.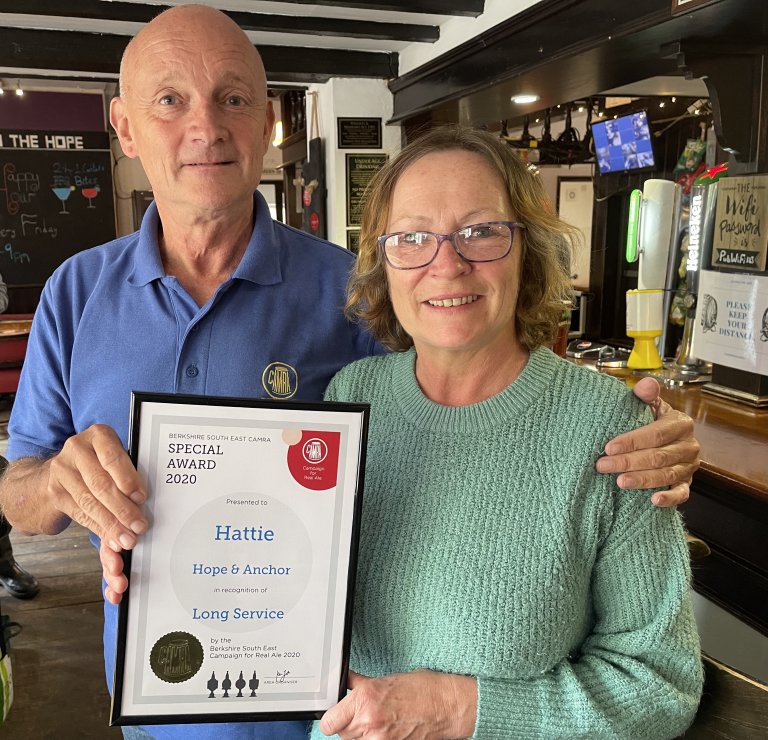 We also plan to make a presentation to Amanda at the Cannie Man, Bracknell in the near future.
If there are any publicans we're not aware of that have run a pub listed in our branch Pub Guide for 10 years or more, then please contact the Branch Webmaster.
Being a publican can be a difficult way of life but these people have all passed the test of time and run enjoyable community locals.