Old Manor Presented for 10 Consecutive Years in Good Beer Guide
Tuesday 7 February 2023
On 1st February, the branch made a presentation to the Old Manor in Bracknell as only pub in the area to feature in the last 10 editions of the CAMRA Good Beer Guide.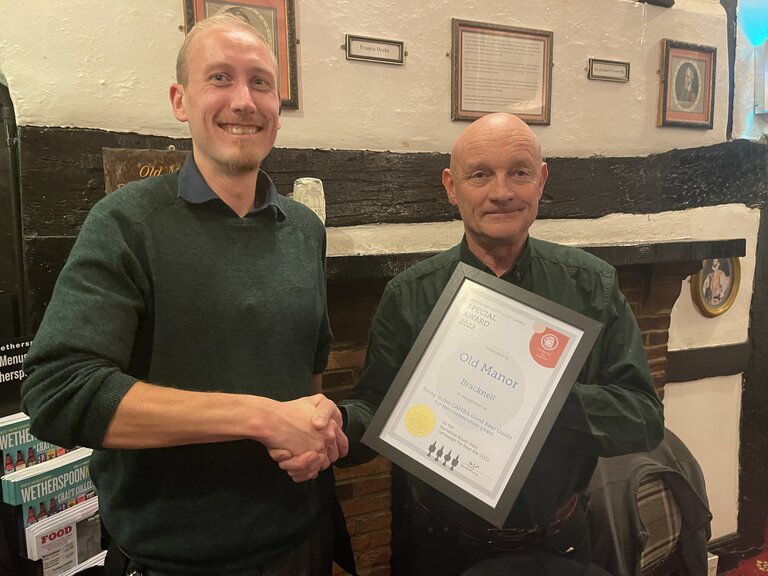 The branch's Chair Kevin Lenton presented the award to the pub's Manager Mike Daly.
As well as being the only branch area pub to feature in the last 10 editions, the Old Manor has featured in the last 24 consecutive editions - double the reason to celebrate them.
Branch Secretary Tony Springall said "All credit to Mike and his team, and also his predecessors. The Old Manor has been in the Good Beer Guide for 24 consecutive years which an achievement that very, very few pubs actually ever achieve.
"Within the southeast of Berkshire, it's the only pub that's been in for 10 consecutive years."
He added: "The people vote for them on the basis of good beer, extremely well priced beer and a fantastic atmosphere."
Manager of the Old Manor, Mike Daly said: "We are so pleased that we were recognised for this after all these years in the guide.
"The pub has changed managers many, many times over the years and the fact that it has made it into the Good Beer Guide consecutively through all the different managers is a testament to everyone's dedication to real ale.
"The selection that we offer and the training that we provide our staff to condition the ale have played a big part."
Our congratulations to those past and present who have helped in this achievement for the Old Manor.