Newtown Pippin Wins 2023 Branch Pub of the Year Award
Tuesday 21 March 2023
We are delighted to announce our new Berkshire South-East Branch Pub Of The Year for 2023 which is the Newtown Pippin, in the Harmans Water district of Bracknell.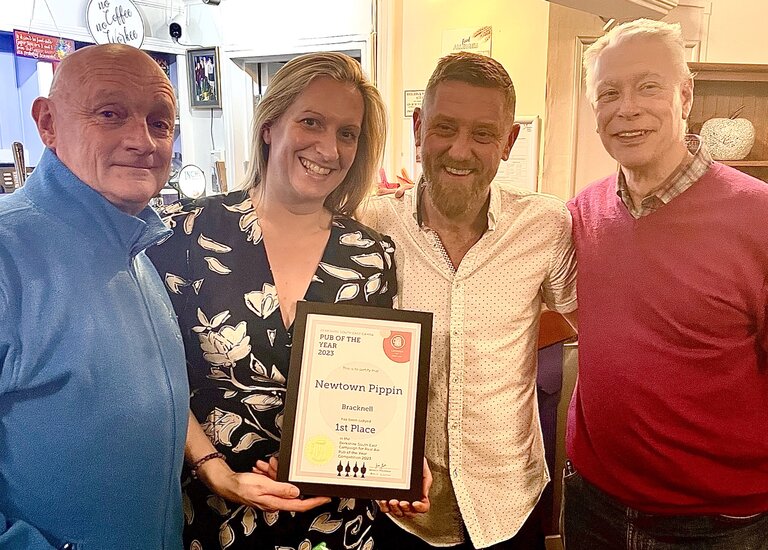 This prestigious award not only recognises the selling of top quality real ale, but places great emphasis upon the pub's community focus, service & offering, cleanliness & hygiene, overall impression and value.
The Newtown Pippin beat very strong competition with its particular emphasis on the community and families. A family friendly pub, which has been transformed in last two years by pub leaseholders Simon & Vicki Powell. Since taking over, they have turned what was once a dilapidated, unwelcoming pub with no real ale into the vibrant pub it is today.
The presentation was made to Simon & Vicki by Branch Chair Kevin Lenton and Branch Pub of the Year Coordinator Mike Tickner during our social at the pub on the evening of March 23rd.
Mike Tickner, who is a local resident, stated "The transformation of this pub has been truly remarkable, and tonight's award is a true reflection of all the hard work, dedication and vision that Simon & Vicki have brought".
Vicki, Simon and the team were overjoyed, with Vicki saying "This is truly amazing. I am lost for words, but much thanks must go to all our customers who have supported us so marvellously in the last two years."
Our warmest congratulations go to Simon, Vicki and the whole team at the Newtown Pippin.